The 16 Best Rehab Centers in Massachusetts (2022)
There are rehab centers in Massachusetts that treat alcohol and drug addiction We ve selected the best
rehabs based on high standards for quality substance abuse treatment This includes residential addiction treatment centers PHP programs outpatient IOP programs luxury inpatient facilities
Read More
Browse Rehabilitation Centers in
Massachusetts
Woburn Addiction Treatment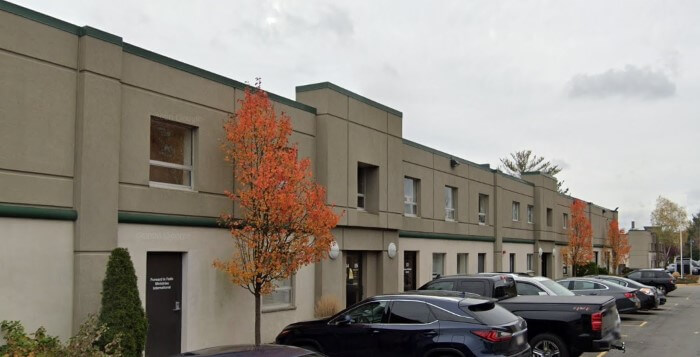 53 Cummings Park, Woburn, Massachusetts, 1801
Woburn Addiction Treatment provides clients with what they call an immersive program designed to address all levels of care, from the mental, physical, emotional, and spiritual. Their programs often combine intervention support, 12-step meetings, various evidence-based therapies, holistic approaches to wellness, therapy dogs, family programs, and extensive aftercare planning to ensure that the skills learned in treatment extend into everyday life. Though clients will work with their clinician and treatment team through various evidence-based programs, they may also have access to overdose prevention services, education, therapeutic fitness, yoga, reiki, massage therapy, and nutrition guidance. In order to meet the time constraints of their clients, Woburn offers both daytime and evening outpatient treatment programs, customized for convenience and effectiveness.
Levels of Care
MAT, IOP, Outpatient, PHP
---
Topsail Addiction Treatment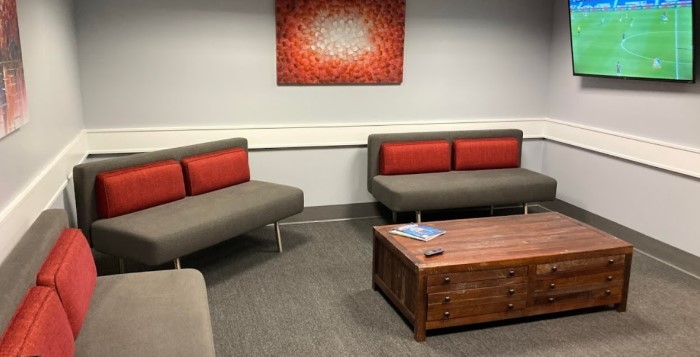 140 Haverhill Street Suite 8, Andover, Massachusetts, 1810
Treatment through Topsail is a little different because clients have a treatment timeline they will follow. It begins with full-day PHP, then clients transfer into IOP, and then finally end with general outpatient. This timeline method allows clients to gradually step down to less intensive care plans and ease their way into a life with more independence rather than expecting them to go from full-time care to nothing in one day. Programs are still customized to the individual client, this plan just allows them more and more freedom as they advance through their recovery. Available services include individual therapy, peer discussions in group settings, aftercare planning, job training, and more. Services are handpicked to match the client's needs.
Levels of Care
IOP, MAT, Outpatient, PHP
---
CleanSlate Centers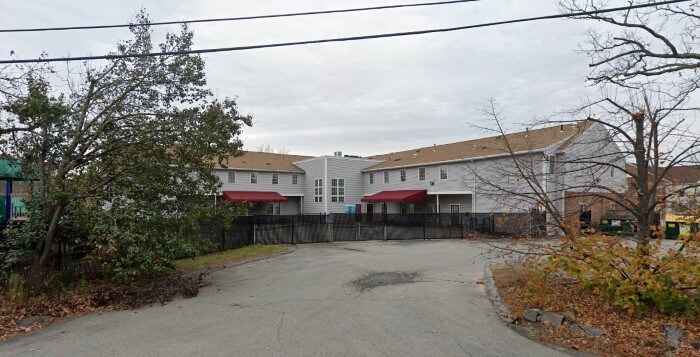 170 Main Street Units G4-G8, Tewksbury, Massachusetts, 1876
Outpatient programs through CleanSlate Centers are primarily evidence-based and rely heavily on medication-assisted treatments to address withdrawal symptoms and cravings that may be keeping clients from remaining in a rehab facility long enough. Clients will have access to buprenorphine or Vivitrol treatments. Clients also work with an individually assigned clinician and groups to discuss other concerns that might be worsening the client's substance abuse. The treatment approach at CleanSlate follows the pattern of addressing the medical needs of each client, their counseling needs, community needs, and recovery needs in each program. Other options revolve around employment and housing services and continued support from recovery specialists.
Levels of Care
MAT, Outpatient
---
Northeast Addictions Treatment Center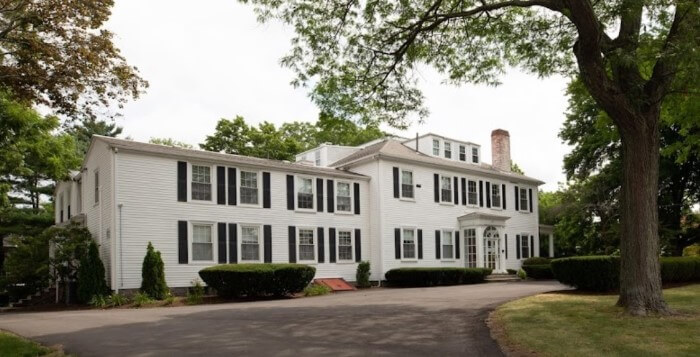 36 Miller Stile Road, Quincy, Massachusetts, 2169
In order to provide effective and long-lasting substance abuse treatment, Northeast Addictions Treatment Center offers each client a variety of addiction recovery treatment services to choose from. Some of these include motivational interviewing, didactic therapy, yoga, meditation, group therapy, fitness classes, music therapy, job training, case management, and so much more. Family members are encouraged to participate in their loved ones' drug rehab programs as it can greatly improve outcomes. Northeast Addiction does also offers 12-step programs, and clients can participate in several different phases of rehab to gradually step down from one intensive program to another until they graduate and are able to live with 100% independence. The phases begin with PHP, then clients step down to intensive outpatient, and then outpatient.
Levels of Care
MAT, IOP, Outpatient, PHP
---
Recovering Champions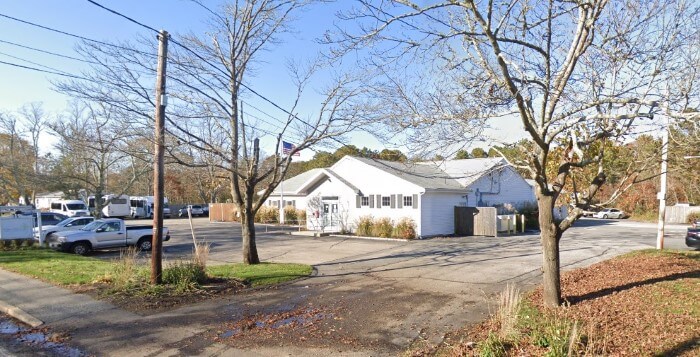 279 Brick Kiln Road, East Falmouth, Massachusetts, 2536
Comprehensive treatment plans through Recovering Champions include some form of CBT, motivational interviewing, family and group therapies, medication assistance, meditation, yoga, exercise, journaling, education, medication management, art therapy, animal-assisted therapy, and 12-step programs. Clients will work with a staff made up of people in recovery as well as trained professionals who do and do not have personal experience with substance use disorders. Though they do not offer residential treatment, clients can be referred out to a treatment facility that is better equipped to meet their needs. Clients will work with their own treatment team that provides only the highest level of effective, evidence-based treatment options to ensure that they receive the best care possible. Extensive aftercare planning is also used to ensure that the skills and coping strategies developed while in treatment remain effective after graduating from the program.
Levels of Care
MAT, IOP, Outpatient, Inpatient Treatment, PHP, Detox
---
Banyan Treatment Center Massachusetts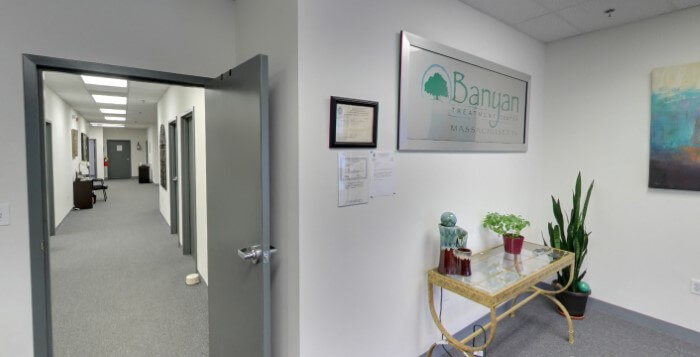 66 K Concord Street, Wilmington, Massachusetts, 1887
Banyan Treatment Center works to help clients struggling with substance addictions to heroin, benzodiazepines, prescription pills, cocaine, meth, and alcohol. Programs are based on 12-step recovery principles, but also include mindfulness, medication assistance, motivational interviewing, reality therapy, and more. Banyan Treatment Center is able to provide small client-to-staff ratios, an interactive support network, 24/7 crisis services, and programs that are affordable. They accept most health insurance providers and will work with their clients to provide payment options in order to ensure that cost is never the reason why someone cannot receive drug or alcohol treatment.
Levels of Care
IOP, MAT, Outpatient, PHP
---
Spring Hill Recovery Center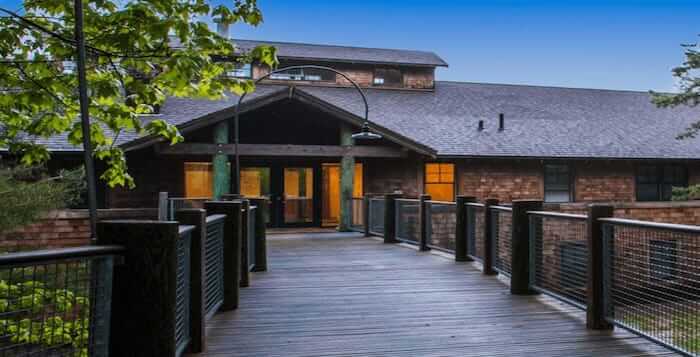 250 Spring Hill Road, Ashby, Massachusetts, 1431
Spring Hill Recovery Center provides various levels of care to both men and women needing help from a drug rehab center. The main programs clients participate in include CBT, DBT, motivational interviewing, anger management, medication assistance, relapse prevention training, yoga, and meditation. Clients will also participate in recreational activities as physical fitness plays a key role in both detox programs and drug abuse or alcohol rehab. Spring Hill also offers specialized programs for veterans, the elderly, and women who are pregnant or have just had a baby. Through case management and aftercare planning, clients work with their treatment team to address housing situations, employment, support groups for continuing care, and various community recovery resources.
Levels of Care
Detox, Inpatient Treatment, IOP, MAT, PHP, Sober Living
---
Serenity at Summit – Massachusetts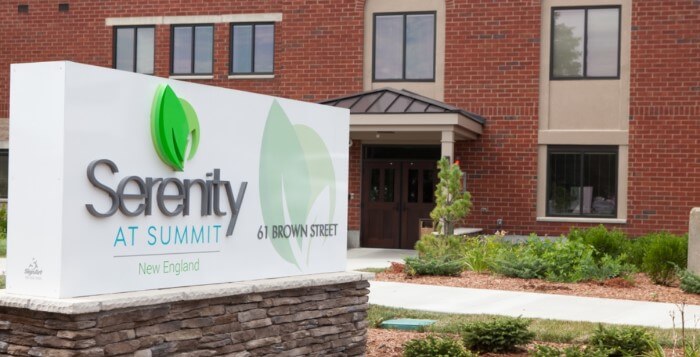 61 Brown Street, Haverhill, Massachusetts, 1830
Because there are many different factors that play into addiction and why someone becomes addicted, Serenity at Summit provides comprehensive inpatient drug rehab programs that address the biological, spiritual, physical, mental, and emotional needs of each and every client in hopes that healing the person as a whole heals their struggle with drugs and alcohol. Some of the inpatient programs offered include meditation, mindfulness, yoga, massage therapy, acupuncture, nutritional guidance, various behavioral therapies, EMDR, expressive arts, motivational enhancement therapy, family programs, trauma-informed care, 12-step meetings, and medication assistance. Clients will work in groups to develop life skills, address relapse prevention planning, and create meaningful connections with people just like them.
Levels of Care
MAT, Detox, Residential Treatment
---
Baystate Recovery Center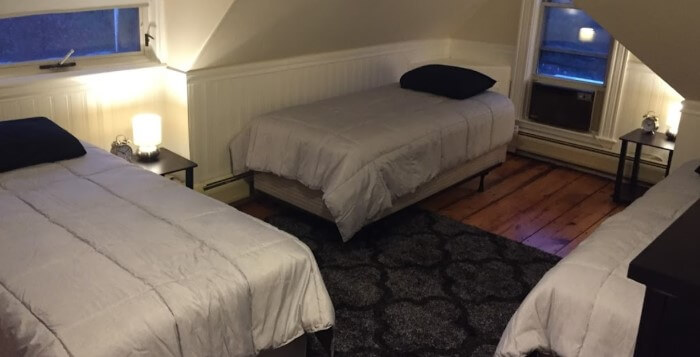 950 Cummings Center Suite 106-X, Beverly, Massachusetts, 1915
Baystate Recovery Center combines clinical and evidence-based approaches with 12-step recovery programs to provide comprehensive plans that are supportive of long-term recovery. Available services might include relapse prevention, mindfulness training, stress management, addiction education, recovery skills development, group support, DBT, and CBT. Though they do treat both men and women, programs will be separated by gender to provide more specific treatments and group therapies to these individuals. Though services will generally be customized to fit the needs of the individual, they may be required to participate in specified therapy groups and skills groups.
Levels of Care
IOP, MAT, Outpatient, PHP
---
Gosnold Cataumet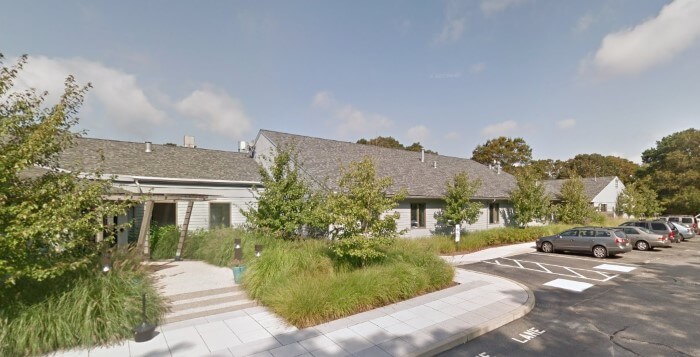 1140 Route 28A, Bourne, Massachusetts, 2532
Gosnold is a non-profit addiction treatment center that works with men, women, and their families to address prevention, treatment, and aftercare. They provide residential care to 40 people at a time, and each client works with a comprehensive, specifically assigned treatment team of addiction specialists, case managers, physicians, and psychiatrists. Programs include some combination of individual therapy, CBT, motivational interviewing, relapse prevention support, mindfulness, peer support, psychoeducational group therapies, yoga, meditation, expressive digital imagery, therapeutic fitness, music therapy, various recreational activities, and continuing care planning. Clients have access to a library, meditation room, zen garden, various living spaces, and areas for sports and outdoor activities. When clients graduate from the program, they work with a long-term recovery manager to plan for continued support.
Levels of Care
Inpatient Treatment, MAT, PHP, Sober Living
---
Bedrock Rehab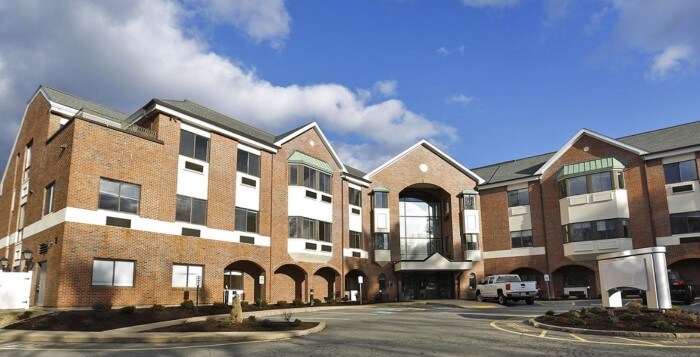 1 Meadowbrook Way, Canton, Massachusetts, 2021
Along with the various evidence-based therapies clients experience at Bedrock Rehab, there are different supplemental holistic treatments that work to ensure each client is addressed and treated as a whole. It's important to focus on the overall picture of recovery rather than only focusing attention on the addiction symptoms the client is experiencing. By combining mindfulness-based cognitive behavioral therapy, internal family systems, group therapy, medication assistance, yoga, and outdoor recreation, clients are able to work with their treatment team and peers to treat complications of addiction as well as develop coping skills and relapse prevention strategies for the future. This allows clients of Bedrock to remain sober long-term and begin living a life without the fear of relapsing. While in detox, clients will receive 24-hour supervision and medical care to ensure that they go through this process as safely and painlessly as possible. They may also be prescribed different medications to treat withdrawal symptoms.
Levels of Care
Detox, MAT, Residential Treatment
---
Bridgewell Counseling Services – Lynn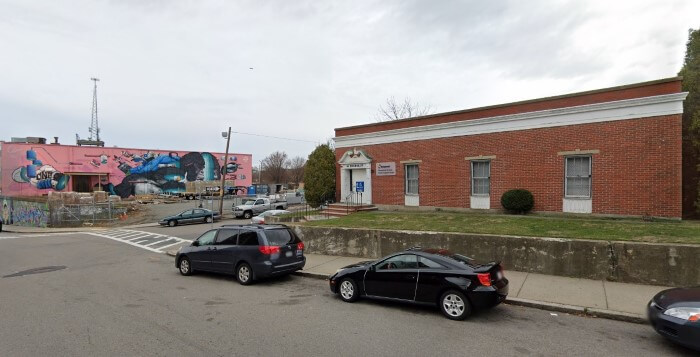 66 Silsbee Street, Lynn, Massachusetts, 1901
Clients seeking help through Bridgewell Counseling Services will participate in a program that primarily combines individual, group, and family therapy. Clients will work with a case manager and other recovery specialists to decide which groups and supplemental services may be needed. Each of the group therapies offered at this facility is specialized to a specific topic: early recovery, relapse prevention skills, anger management, parenting classes, or trauma-informed. These programs really focus on peer support as problem behaviors and negative thoughts are addressed, discussed, and transformed into something positive and healing.
Levels of Care
MAT, Outpatient
Editorial Note
Bridgewell does offer a residential women-only program at a separate location in Massachusetts.
---
Recovery Centers of America at Danvers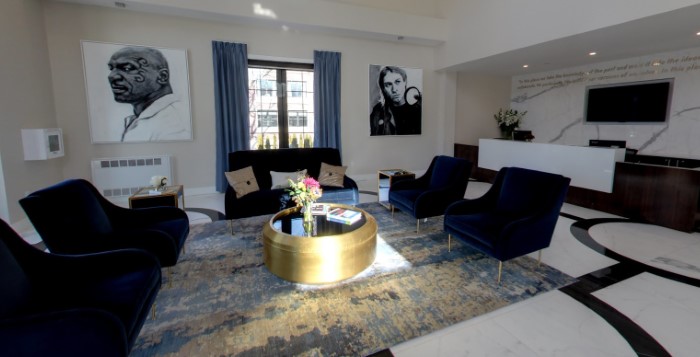 75 Lindall Street, Danvers, Massachusetts, 1923
Recovery Centers of America at Danvers is only about 25 miles outside of Boston, making it an easily accessible facility, especially for those seeking outpatient treatment for dependency issues. Regardless of the level of care, clients will have access to staff and medical services 24/7. They are able to provide services to up to 200 people at a time, provide semi-private living spaces for residential clients, and provide clients with nutritious, chef-prepared meals. Though programs are individualized, clients are able to utilize a combination of evidence-based and holistic therapy options to treat all aspects of their life. Because they have some of the highest quality equipment and treatment staff, RCA is able to work with clients of all types of addiction, including opioids, fentanyl, heroin, meth, benzodiazepines, and alcohol addiction.
Levels of Care
MAT, Outpatient, Inpatient Treatment
Editorial Note
Recovery Centers of America has other Massachusetts drug rehab locations, providing various services and levels of care to people living in this state.
---
Behavioral Health Network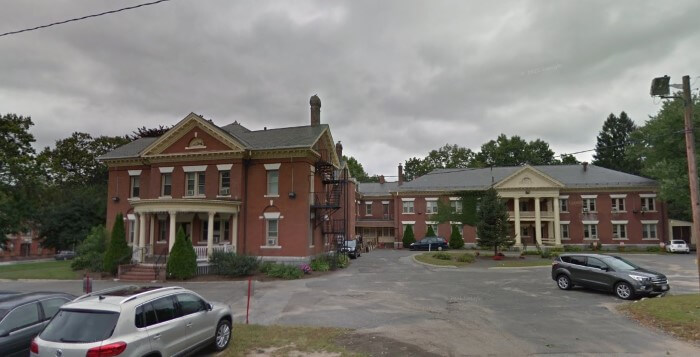 471 Chestnut Street, Springfield, Massachusetts, 1107
Behavioral Health Network provides many different drug treatment services to each of their clients. These services include housing assistance, various community services, cognitive behavioral therapy, motivational enhancement, mindfulness-based stress reduction, and medication assistance. They also offer DUI and other legally mandated programs. Clients of Behavioral Health Network also have access to recovery coaching and peer support. All of these services combine to create a rehab program that addresses specific needs and recovery goals as well as any underlying behavioral health conditions that need to be addressed simultaneously.
Levels of Care
MAT, Outpatient, Residential Treatment
---
The Northern Hope Center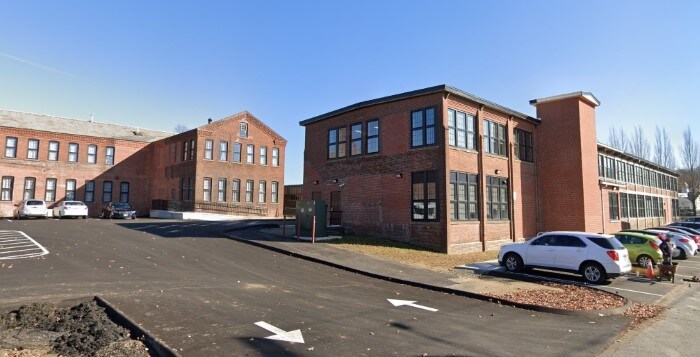 21 Kenwood Street 1st Floor, Greenfield, Massachusetts, 1301
The main goal of treatment through The Northern Hope Center is to stabilize clients so that they are able to continue on with their recovery journey. Clients typically spend about 5-7 days receiving comprehensive detoxification services and acute treatment. For individuals suffering from withdrawal symptoms, cravings, or pain, their stabilization program might include medication assistance.
Levels of Care
Detox, Inpatient Detox, Inpatient Treatment, MAT
---
Providence Behavioral Health Hospital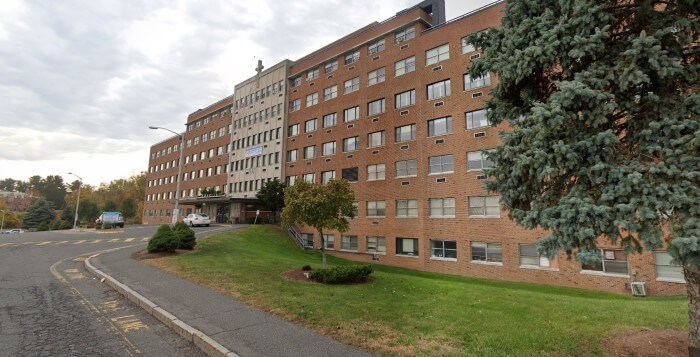 1233 Main Street, Holyoke, Massachusetts, 1040
This facility focuses on family services and treatment programs that are designed to address children and their family systems. Each program provides education services, medication management, a family stabilization team, and therapeutic mentoring. Because they believe that relationships and family units are key in providing stable homes and overall wellbeing, this is the key focus of treatment at Providence Behavioral Health Hospital. They do provide bilingual services as well for individuals and families who speak Spanish.
Levels of Care
MAT, Outpatient
---
Standards For Inclusion
Each addiction treatment center on this page has: (a) The Gold Seal of Approval from the Joint Commission for addiction services, CARF Accreditation, and/or has been verified by SAMHSA (b) Composite online review score of 3.3/5 stars or better, (c) Robust substance abuse treatment programs.
We assign letter grades to each center based on their cumulative online review ratings:
---
---
---
---
Find More Facilities Nearby